Bringing Pets to Mexico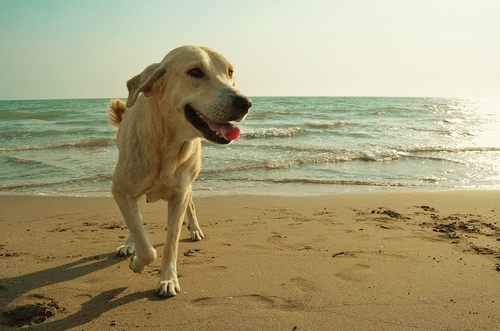 When you are driving to Mexico for business or pleasure, you might want to take along your favorite pets.
As always, make sure to purchase your Mexican insurance before entering Mexico, as it is one less thing for you and your furry companions to worry about. The easiest way to acquire your Mexican car insurance is to purchase your policy online before you leave on your trip to Mexico. Get a quote and purchase policy
You may enter Mexico with two cats or dogs, but you will need a letter from a veterinarian stating that they have received a rabies vaccination and a distemper vaccination. Also, ONLY cats and dogs are allowed to enter. So leave your pet koala bear, snake or Komodo dragon at home.
Here is some more practical advice for bringing your dog or cat along
Bring a first aid kit designed for your pet. If your cat or dog gets a tick and you are not near a vet, this kit will help you remove it. You can typically purchase a first aid kit for your pet at your US vet office. Put your pet on heartworm medicine. Dogs pick up heartworms quickly and easily when they are running around in rural places.
Give your pet flea control medication. Especially if you are hoping to keep your pet with you in the hotel or motel. This will make your stay (and the stay of future hotel guests) more pleasant. And prevent him from picking up fleas from the last guest.
Make a list of your pet's favorite (and most needed) items, such as:
leash
food dishes
food
water
treats
favorite toys
special blankets
plastic bags for cleanup
medicine
Check it carefully before you leave and pack it all so as not to spend the trip with a howling dog without his favorite tennis ball or cat that misses her catnip mouse. Also, be sure to check it against our list of items you should take in your car.
Tips to consider while your pet is in Mexico
Keep your car air-conditioned. If you are hot, imagine trying the drive to Mexico with a fur coat on.
Give your pet plenty of fresh air. Take a break every couple of hours at rest stops so that your pet can stretch her legs,drink some water and use the great outdoors for, er, relief.
NEVER leave your pet alone in the car with the window open. Even if you are parked in the shade. According to the American Society of Prevention of Cruelty to Animals (ASPCA), your vehicle can heat up to 160 degrees in a matter of minutes on a hot day, which could have deadly results for your pet.
Carry all pet paperwork with you. You will have a much more relaxing vacation by keeping the paperwork on hand, just in case the authorities start to wonder about Fifi.
Keep your dog leashed and away from strays at all times. A lot of disease-carrying stray animals roam throughout towns and villages. Since the soil and these strays are covered with ticks, keep your dog on its leash and away from strays. If your pet comes into contact with a stray, gets a tick, or even eats poisoned food which is often put out to kill strays, it can be tough to find a well-trained veterinarian.
Make sure that your pet ID tags are current so that he is not mistaken for a stray.

Where to buy food for your pet in Mexico

If you are driving to one of the bigger cities in Mexico, particularly those in the north and central regions, you will be able to find large supermarket chains that carry dry dog and cat food, such as Wal-Mart and Gigante. Don not count on finding specialty brands, though, or even canned food, especially for dogs.

If your pet is on a special diet or is picky about a certain brand, bring plenty of food for him as you can not count on being able to find that food or get prescription pet food in Mexico.

If you are planning a camping trip, or going to travel throughout smaller towns and villages, you should bring along enough dog food from home for your entire trip. You may also want to seriously consider buying bottled water for your pet to drink while you are traveling, since many dogs get sick when they drink water that they are not accustomed to.

A hotel room for you and your pet

***Visit our list of Pet Friendly Hotels in Mexico for details on hotels, motels and RV parks from Rosarito to Ensenada that will give your furry friends a place to stay with you on your drive into Mexico.

The road home

After your trip, you will of course be bringing your pet back into the US. There are rules for that, too. Make sure you are familiar with them before driving to Mexico. Read more about bringing your pet back to the US from Mexico.