Puerto Penasco Tourist Cards - Temporary Tourist Visa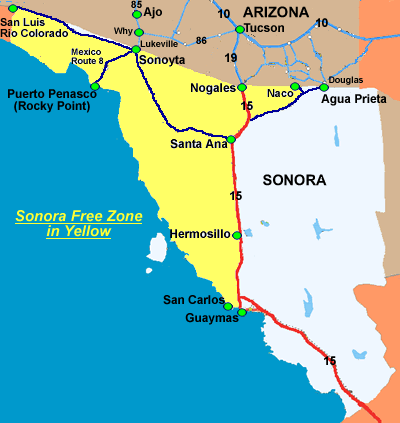 Tourist Cards for Driving to Puerto Penasco
The rules for Mexico travel change on occasion, and the rules may be enforced differently in different parts of Mexico.
These are the current rules for Tourist Card requirements for driving your US or Canadian vehicle to Puerto Penasco and other parts of the state of Sonora:
The Sonora Free Zone has recently been expanded to everything west of highway 15 to as far south as San Carlos/Guaymas. Puerto Penasco is in the Free Zone. See Free Zone map below
All US or Canadian citizens who enter Mexico should get a Tourist Card if you are staying more than 72 hours in Mexico, or if you are traveling further into Mexico past the Free Zone (some visitors to Puerto Penasco choose to not get a tourist card even if they are staying longer than 72 hours, but technically you are supposed to get one).
If you are staying less than 7 days, the Tourist Card is free.
If you are staying for longer than 7 days, then you need to pay the approximately $20 USD for your Tourist Card at the time you get it stamped.
You will need to get your tourist card stamped upon entering Mexico, and you will also need to pay for it if you plan to stay more than 7 days.
If you are staying within the Free Zone, you no longer are required to get any type of vehicle permit either! Read more about Sonora Only Vehicle Permits. If you plan to travel outside of the Free Zone, your will be required to get a temporary vehicle import permit. Read about vehicle permit requirements for other parts of Mexico.
Because the rules do change, and sometimes the rules are enforced differently in certain parts of Mexico, we recommend the following before making your trip.
1: If you are staying at a hotel, ask the hotel what the current tourist card requirements are.
2: You can also ask the Mexican authorities at the time you cross the border as to whether you need a tourist card or not.
Read more about Mexico Tourist Card requirements if you are traveling to other parts of Mexico.
Read this page for information on the types of identification you should bring with you to Mexico.