Merida - A Charming Colonial City
And Land of the Mayan Hammocks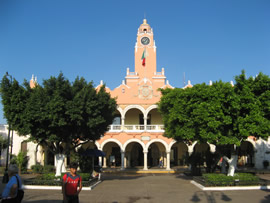 Merida was a pleasant city to visit on our last trip to Cozumel. It is a four hour drive from Playa del Carmen, but if you have the time, Merida is worth the long drive.
Merida is located in the state of Yucatan, so you will have to cross the state line if you are coming from the state of Quintana Roo.
The town square of Merida is filled with beautiful old buildings including a large cathedral and impressive colonial government buildings. The atmosphere is relaxed and the university brings a vibrant and youthful energy to the city.
There is a large Mayan presence in Merida, and it is a great place to shop for Mayan artisan crafts. The most popular Mayan product offered in almost all of the artisan shops are the Mayan hammocks.


Merida claims to have the best hammocks in the world because all of the Mayan people in the area still sleep in hammocks instead of beds. The hammocks are hand woven on special looms, and the 'quality' hammocks are constructed from a fiber called sisal which comes from a local agave plant. Sisal is supposed to be incredibly strong and durable, its subtle aroma is supposed to repel mosquitoes, and it is much more expensive than cotton or nylon hammocks. We found there are many different quality levels of hammocks, and we are now becoming hammock connoisseurs.
When shopping for a hammock, make sure to lay in it in order to experience the full size and the tightness of the weave. We found many street vendors' hammocks did not have nearly the tightness of weave or hammock size when compared to some of the hammocks sold through the artisan stores that we could actually lay in before purchasing.
If you want a good laugh, make sure to ask for the book on how to make 'hoochie-cochie' in a hammock. Our vendor had a booklet called Maya-Sutra, and another shop had the Hammock-Sutra. They had about 50 fairly graphic drawings of ancient Mayans putting their hammocks to the test!
Merida also has a number of beautiful old mansions that have been restored to their original grandeur. A perfect way to see the mansions and other beautiful buildings and parks is to hire a horse drawn carriage for a ride. Rides can last from about 40 to 90 minutes, and it is a fun and charming way to view the city. These little horse are incredibly well trained to weave through the car traffic while also providing a pleasantly smooth ride.
Merida is also a great place to shop for locally made clothing such as Caribbean style linen shirts and dresses.
Merida is a great place to spend a day or two if you wish to escape the mega-resort towns of the Cancun area.