Playa del Carmen - Riviera Maya - Mexico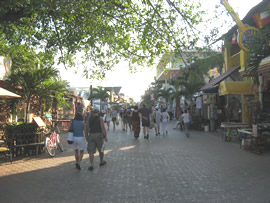 On our last dive trip to Cozumel, we took the water ferry to Playa del Carmen in order to drive to the cenotes which were about an hour south of Playa. While walking through the Playa del Carmen marina, we found the waterfront shopping area to be really charming. So after our cenote dives, we scheduled another day to spend in Playa del Carmen.
Playa has become a rather sophisticated and upscale tourist destination that is frequented by Europeans, Americans, and vacationing Mexicans. The town has a feel like Santa Barbara, California or Carmel By the Sea. The shops and galleries offer some of Mexico's finest crafts and clothing, and many of the restaurants serve contemporary upscale cuisine.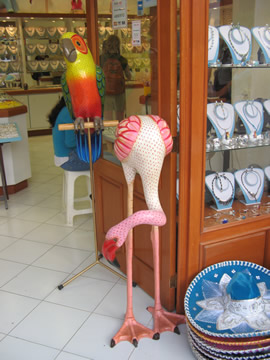 If you are looking for a remote Mexican village to score deals on your favorite Mexican crafts, Playa is not the place. But if you are looking to window shop and purchase high quality artwork or jewelry, Playa should meet your needs. The beaches are also quite nice, and scuba diving trips can be easily arranged.
Beware - there are two Starbucks Coffee houses and a Häagen-Dazs ice cream shop in town!
Out of curiosity, I also checked out some of the local real estate prices. Ocean front penthouse condos were offered for over $1,000,000 US dollars. Freestanding homes with ocean views were also over a million US dollars.
I would like to spend more time in Playa del Carmen on my next visit, because it really was a charming and pleasant town to just wander around in. Further beyond the tourist area of the town seemed quite well developed as well, and you can find just about anything you need within the town's limits. Playa del Carmen was a refreshing and relaxing alternative to the mega-resorts of Cancun and the hectic and chaotic pace of some other towns in the area.