Scuba Diving the Cenotes of the Yucatan Peninsula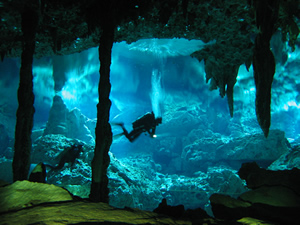 When most people think of scuba diving in the Yucatan Peninsula area of Mexico, they think Cozumel. Cozumel is an incredible place for ocean reef diving, but if you want a truly unique and magical dive experience, you should try diving in the fresh water cenotes - underwater caves - of the Yucatan Peninsula.

During our most recent dive trip to Cozumel, we planned a day trip to the mainland in order to check out the cenotes. The logistics of transporting ourselves from the island of Cozumel turned out to be fairly easy, and we were able to take 2 nice relaxing cenote dives on the mainland, then still return to Cozumel for a late dinner.
We started our day by catching the 8 am water ferry from Cozumel to Playa del Carmen. The water ferries run every hour throughout the day, and the cost is about $8 per person each way. The boat ride is about 30 minutes.

Once in Playa del Carmen, our tour guide - Yana Ha - picked us up in their van and shuttled us straight to the cenotes. The drive from Playa del Carmen was about 1 hour.
The cenotes we dove are called Dos Ojos. The water visibility is well over 200 feet, and the scenery is absolutely incredible. The natural lighting and rock formations create a meditative transcendental scuba diving experience. Some divers in our group were a little apprehensive at first about diving through tunnels where the surface air was not directly overhead, but they calmed down as soon as they started the dive. The entire dive is guided by an experienced dive master, and there were always escape passageways with sunlight and surface area within 50 feet of every tunnel we dove through.
If you are in the area and you have the time to take a day trip to the cenotes, you should. It is a truly unique experience.