Cozumel, Mexico - The Scuba Diver's Island Paradise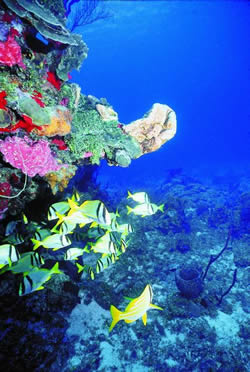 If you enjoy traveling to Mexico, and you enjoy scuba diving, then you should schedule a trip to Cozumel, Mexico. Most divers agree that Cozumel offers the best reef and wall diving in all of Mexico. Some reports claim that Hurricane Wilma, which hit Cozumel in 2005, had destroyed much of the reefs. However, we just took a scuba trip in February 2007, and we found most of the wall and reef below 40 feet to be in good condition. Most of the fish have returned, and the coral structures seemed to be in good shape. However, the shallower reefs and snorkeling areas definitely showed evidence of hurricane damage.
The Diving
Cozumel is a 29 mile long island located just a few miles off of the Yucatan Peninsula. The most densely inhabited side of the island has dramatic underwater geography with enormous walls and underwater canyons. There is a decent current running along the coast, so almost all of the wall and reef diving is drift diving. Most of the good diving is also at depths of 60 to 140 feet. So Cozumel demands some good diving skills. If you are comfortable with drift diving and are fine with diving fairly deep, most of the Cozumel diving will make for a relaxing journey where you hardly have to kick your flippers. If you have time, you should also consider diving the cenotes!
You should be aware that Cozumel is also known to have some of the most decompression sickness cases of any dive destination. Some factors which lead to a higher rate of decompression sickness are the tendency for divers to be dehydrated due to the heat and humidity of the area and the excessive alcohol consumption for those who enjoy the Cozumel nightlife. Because many of the dives in Cozumel are below 60 feet, there is also a higher risk of decompression if you do not pay close attention to your dive tables. So drink lots of water and take more safety stops than your computer tells you.
If you do think you are showing signs of DCS, Cozumel has more hyperbaric chambers to treat DCS than most other dive destinations! Make sure to have your current DAN - Divers Alert Network insurance prior to your trip!
Other Cozumel Activities
CARNIVAL in Cozumel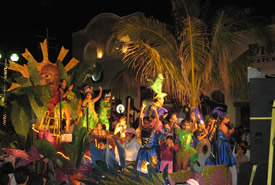 Cozumel is known for a vibrant Carnival season which runs for about a week and climaxes on Fat Tuesday. This typically is in late February, but you should check when Fat Tuesday is for the year you are traveling. There is a big parade of floats and dancers every night, and the clubs get hopping around 11pm. The parades are designed for family entertainment, so don't expect to see girls lifting their tops like at Mardi Gras. If you want to get crazy, you can do that at the many night clubs in town which stay hopping well past midnight.
Exploring the Island
Diving and snorkeling is definitely the most popular activity in Cozumel, but there are other ways to entertain yourself while on the island. You can take a trip around the island via rental car or motor scooter - make sure to get adequate Mexican insurance for any vehicle you rent! The beaches are best on the opposite side of the island from where the majority of the population is located, and there are a few beach restaurants that you can relax at for a lazy afternoon of munching on seafood and sipping your favorite drinks. A highlight for me was an octopus and conch pizza that I found at one of the beach restaurants!
Venturing Off the Island
If you start suffering from island fever, you can always hop on a water ferry for a 30 minute ride to Playa del Carmen. From Playa del Carmen, you can organize trips to see Mayan ruins, visit the cenotes, see Cancun, or explore many of the other exciting things in the Yucatan Peninsula such as the colonial town of Merida.