Ready Lane - The Faster Way to Drive Across
the Border Into the US from Mexico
If you are tired of long waits to drive back to the US at the border, the new Ready Lane may be a great solution for you.
U.S. Customs and Border Protection has developed a new way to get drivers across the border quickly. A number of US/Mexico border crossings now have a special Ready Lane for passengers who have a Radio Frequency Identification (RFID) enabled ID card. RFID enabled cards have a radio chip embedded in the card. The border crossing stations are able to scan the card from 10 to 15 feet away. Passengers simply need to hold the cards up to the windshield while driving through the Ready Lane border crossing.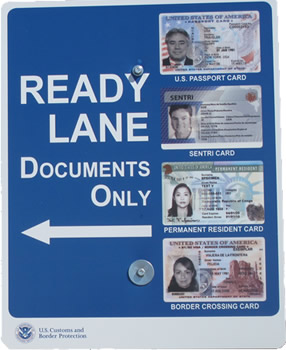 The current acceptable RFID cards include:
Passport Cards (not a passport, but the wallet sized passport card)
SENTRI PASS, NEXUS, of FAST card
Enhanced Driver's License (currently available in Michigan, New York, Vermont, Washington, and a number of Canadian Provinces)
New RFID enabled Permanent Resident Card (green card)
New - Border Crossing Card
Some important notes:
All passengers in the vehicle over the age of 16 must be carrying their RFID cards while using the Ready Lane.
Look for the Ready Lane signs as you approach the border crossing area.
Not all border crossing have a Ready Lane, but more Ready Lanes are being designed. Refer to the list of Ready Lane border crossings below.
Make sure to have all RFID cards out of your wallet and ready to be held up by the driver's side window when you pull up to the crossing station.
Current Ready Lane Border Crossing (As of June 1, 2011)
Mexico into US Ready Lane Border Crossings:
San Diego, CA - Otay Mesa
Nogales, AZ - DeConcini
Lukeville, AZ
El Paso, TX -Ysleta-Zaragoza Bridge
Del Rio, TX
Progreso, TX - Donna-Rio Bravo International Bridge

Canada into US Ready Lane Border Crossings:
Blaine, WA - Peace Arch
Detroit, MI - Ambassador Bridge
You can read more about the Ready Lane and RFID enabled ID documents at the US government website: https://www.cbp.gov/travel/us-citizens/western-hemisphere-travel-initiative